People
Scheduler
Powerful Workforce Optimization System
PeopleScheduler
Running operations for a business concern can be simple or complex. Planning the schedules and rosters of the crew or employees should always be simple. Build your employees' schedules in minutes. Meet every available workers' unique preference of shift time, according to their skills and capabilities, align the business tempo day in day out so that you have exactly the right number of workers to do the required amount of work, minimizing idle time and non-productive hours. Track employee hours, avoid exceeding budgets and scheduling overtime, reduce absenteeism and late arrivals, and handle unexpected changes without stress. Get this done quickly!
We can pull in various inputs from the key operational parameters from a restaurant or business unit, built around a smart prescriptive AI engine that understands work to be done and the available people to do it. Your result will be An optimized scheduling system that saves you time and money over the old methods or pen & paper or excel spreadsheets. 
Employee scheduling tools on Peoplescheduler give you all the features you need to build conflict-free schedules in minutes. From one platform accessed from a browser, you can keep track of the shifts that are up for grabs and let employees claim them with a click. Easily work around vacation days and unavailability, avoid schedule conflicts and most importantly within market labour laws and business constraints, and prevent overtime while staying on budget.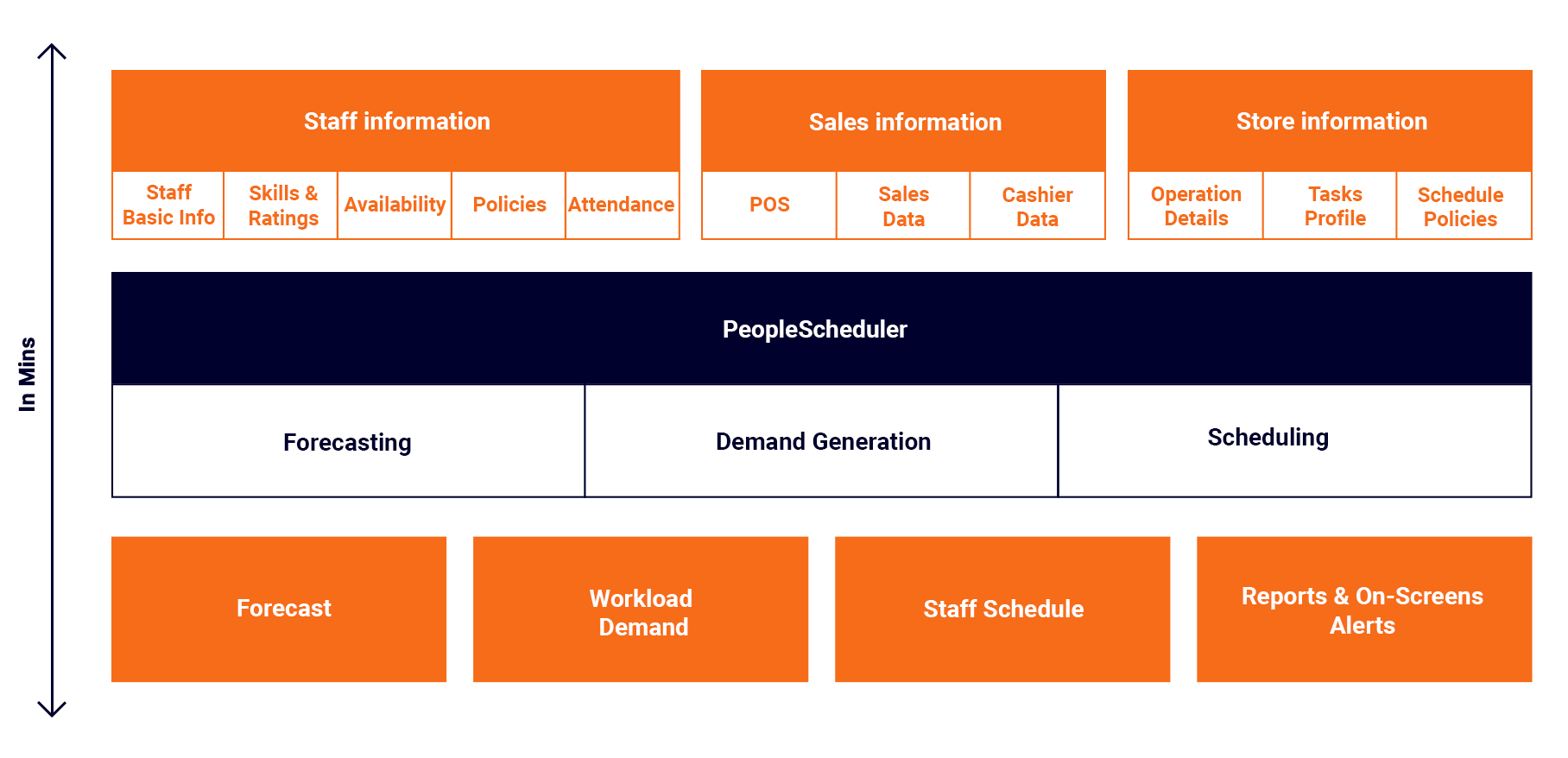 Higher Productivity, Better Accuracy
Powerful AI forecast engine giving you world-class Predictive data, capable of forecasting over 20 different sales parameters at 15 minutes timestep, with over 95% projections accuracy
Build your employees' work schedules in minutes, regardless of size and number of locations
State-of-the-art optimization algorithms to put the Right People with the Right Knowledge in the Right Place at the Right Time
Costs Benefits 
Cloud-based, browser access. No additional hardware and software needed
No running cost to maintain, update and troubleshoot biometrics hardware
Time and Labour savings over planning and better labour utilisation through optimisation.

 

Reduce overtime costs and helping to analyse labour metrics for better planning and business decisions
Savings will pay for the PeopleScheduler system.
Eliminate Conflicts, Labour Laws Compliance
Schedule with confidence with all business and labour requirements met. Build-in unique business constraints into the system. Avoid costly penalties
Matching work demand with available employees
Avoid schedule conflicts with up-to-date employee availability and time-off requests. Submit and review attendance online
Integrates with Sales and HR systems
Accepts Sales data from POS or ERP systems to be used by AI engine
Integrates HR and Training systems to receive up to date staff and skills data.
Able to integrate with organisation's Time Management and Payroll systems

 

Improves Payroll processing
Eliminates human errors using EDI interfacing